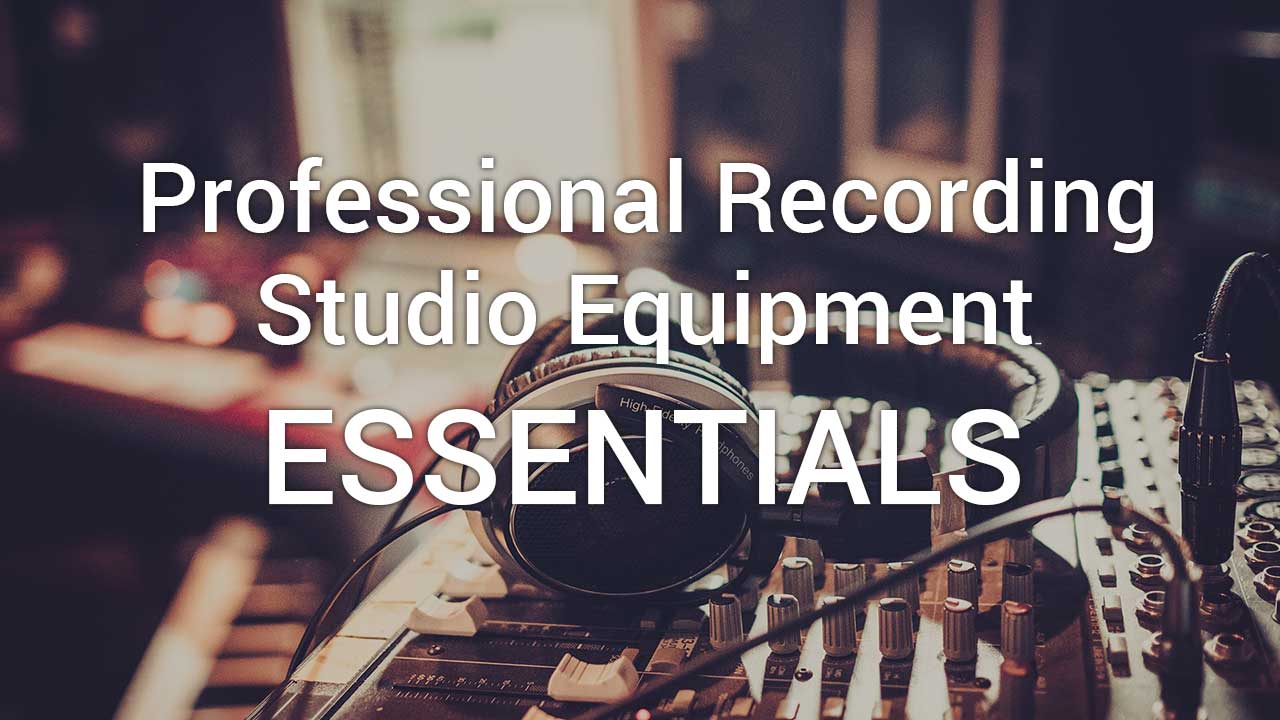 The Basics of Professional Music Recording Studio Equipment
There are all types of music and professional studio recording equipment that one can purchase when getting started or building a home studio.
It's important to know which equipment is absolutely essential and what can wait you have been up and running for a while. A music producer may have been working at a top-notch studio, starting out as an intern and working his way up. He's used to the best equipment with all the bells and whistles.
The great advantage today is the sheer affordability of equipment that just a few decades ago, would have filled an entire room.
The Audio Interface
Got connections? The audio interface is what connects your other professional equipment, essentials and nonessentials, to the computer.
input sources such as a guitars or microphones have a clearer sound when connected through an audio interface.
Anyone who has ever had a number of applications open on a laptop or tablet all at the same time understands that the more that is open, the slower the other apps seem to be. It works the same way in a home production studio when there are too many items plugged into the computer.
An audio interface speeds up the production process by controlling multiple input variables.
Headphones
There must be a reliable medium for which you can accurately hear the music. Headphones are not a piece of music production equipment which you should skimp on.
Perhaps more essential than monitoring systems or studio monitors, headphones are important because the sound travels directly from the DAW to your ears without interference from the acoustics in the room.
Microphones
Unless a producer plans to solely produce instrumentals, he will need a microphone for recording live music or vocals.
Different microphones serve different purposes, but almost any condenser microphone will work.
Many top music production colleges have an entire storage cabinet for their microphones. These microphones are usually from at least two different manufacturers i.e. AKG and Shure.
When purchasing music production equipment on a budget, you can get away with spending between $100 and $200 per microphone. There are even a few excellent products for less than $100.
If we were to organize brands from the all-American team players to last pick as an example, it would look like this:
Shure and AKG
Rode
Samson
Cables
Some of your music production equipment will come with cables, but the type of equipment you connect to an audio interface such as decent microphones, typically will not. The microphone cable will have to be purchased separately.
To save some frustration, read instructions and examine your equipment ports for in and out:
Check the input options on the studio monitors
Check the output options on the audio interface
A Computer
It goes without saying, but a producer needs a recording device, a computer, on which to actually produce (edit, mix, record, etc.) the audio.
The computer of choice for music production, whether Mac or Windows based, will tend to have certain features geared toward recording. By comparison, a computer you'd find on an office network, or a system geared towards gaming may not be the best tool for the job.
The ability to handle signal input, latency, processor speed, storage and stability are all important factors of a good machine.
When getting started, the DAW program is a good substitute for mixing boards. Likewise, headphones will do instead of speakers, but there is no substitution for a computer.
Pro Music Recording Studio On A Budget
Having your own professional recording studio allows you to experiment with current music technology, recording tools and techniques beyond the confines of the classroom.
With a very small investment, less than $500, the right gear can go a long way to producing professional results at a fraction of the cost.
Setting up a music recording studio doesn't have to break the bank, but it has to be good, and it has to be functionable.
To get you started, here's a few highly recommended pieces of music recording studio gear to get you off to a good start:
Critical Music Recording Studio Equipment:
On a tight budget? Thanks to superb resources like Recording Revolution, here's a recommended list of the most critical recording studio equipment to get you started:
Sale
PreSonus AudioBox USB 2x2 Audio Interface - Includes Studio One
Bus-powered USB audio and MIDI interface
24-bit resolution, 44.1 and 48 kHz sampling rate - NEW VERSION goes to 96 kHz
2 combo mic/instrument inputs with high-performance, low-noise, high-headroom mic preamplifiers
Zero-latency analog monitoring
Includes free download of Studio One 3 Artist DAW software and 6+ GB of third-party resources after product registration
Samson C01U Pro USB Studio Condenser Microphone
Large, 19mm diaphragm ensures pristine studio-quality audio
Headphone output for zero-latency monitoring
Supercardiod pickup pattern
Smooth, flat frequency response of 20Hz-20kHz
16-bit, 44.1/48kHz resolution
Sennheiser HD 201 Lightweight Over Ear Headphones
Connectivity Technology: Wired
Lightweight and comfortable economical headphones, Cord Lenght : 9.8 ft (3 m)
Features smooth silver design and leatherette ear pads
Delivers powerful, bass-driven sound
On Stage Stands MS7701B Tripod Boom Microphone Stand
Solid cast end with standard 5/8-27 threads
Long 36" boom with molded plastic counterweight
Euro-Style boom with separate clutches for length and angle of boom. Allows user to make one-handed adjustments of boom angle while performing
Professional quality die-cast zinc clutch locks vertical shaft at any height from 36" to 63"
Clip-on cable holder
Sale
Planet Waves Classic Series XLR Microphone Cable, 25 feet
In=Out Technology: Low capacitance for pure signal transparency
Nickel-plated brass connectors offer reliable contact and corrosion resistance
Shielding provides noise rejection for quiet operation
XLR Male to XLR Female plugs for balanced I/O
Limited lifetime guarantee
Sale
Top Reviewed Recording Gear:
#
Preview
Product
Rating
Price
1
Mpow Flame Bluetooth Headphones Waterproof IPX7, Wireless Earbuds Sport, Richer Bass HiFi Stereo...

3,926 Reviews

$50.99

from $22.99

2
Bluetooth Earbuds, Weesound Bluetooth Headsets Stereo In-Ear Earpieces with 2 Wireless Built-in Mic...

59 Reviews

$36.99

$14.95

3
COWIN E7 Active Noise Cancelling Bluetooth Headphones with Microphone Hi-Fi Deep Bass Wireless...

6,793 Reviews

$149.99

$69.99

4
Otium Wireless Headphones, Bluetooth Headphones, Otium Best Sports Earphones, IPX7 Waterproof Stereo...

724 Reviews

$59.99

$23.99

5
SENSO Bluetooth Wireless Headphones, Best Sports Earphones w/Mic IPX7 Waterproof HD Stereo...

148 Reviews

$99.97

$19.98

6
Oldboytech AUX Cable,[2-Pack,4ft,Hi-Fi Sound Quality] 3.5mm Auxiliary Audio Cable Nylon Braided Male...

621 Reviews

$29.99

$7.99